Right, todays feast is all about my favourite comedy clips which I have listed for your amusement. Eight of which I could find clips for. Two alas, I could not.
It isn't a list of my favourite shows, although there are some here, BUT a selection of MOMENTS which I believe to be of note.
I will admit in advance that most of these are British, purely because thats the television that I've watched over the years.
I hope that some, if not all, of them make you titter. Enjoy.

Red Dwarf - Red Alert I've been an 'on and off' fan of this comedy show, having watched it from day one but lost interest in it by the time the seventh series came along (around the time when Grant left from producing the show).
There has always been some wonderfully funny moments, mainly from series 2 to 6, and the one I've chosen comes from the episode 'Legion' which is full of good material, the best in this scene (for me is at 1.30), as a) it's funny (always a plus point) and b) it was a joke on the older science fiction shows where special effects were literally just changing light bulbs and stuff.
Eddie Izzard: Death Star Canteen/British Vs American Movies – I was never too sure of him when he first appeared on the comedy circuit, but it's only been in the past ten years that I've fully appreciated his humour.
The first scene chosen was one I was introduced to recently, and shows his 'what if' type of humour. The second, because it's based on observation of the American movies, as well as English history (and to fully appreciate the flag aspect, you would need to have seen an earlier part of that same one man show). My favourte bit is the rendition of the Death Star played by british actors.
Jerry Lewis: The Typewriter – I couldn't remember the film this scene came from (until I googled it lol – "Who's Minding the Store") but I do remember it clearly from when it was on the telly (many many years ago).
To me, he simply was, and still is, an extremely funny guy, and I would watch him whenever a film of his was on because you knew it would make your laughter muscles ache.
He is quite possibly unique in the world of film, and this just proves that some of the funniest stuff can be without words.
Freddie Starr: Vincent - Freddy Starr has since, over the years, perfected this song/gag but it was new to me when I first saw it performed live (do you mean there are dead performances??) at the Royal Variety Performance in 1989.
The clip's sound is a bit out of synch but please stick with it as the whole performance is worth perservering with.
The Two Ronnies: Fork Handles
- What can I say about this clip that hasn't already been said.
It's a scene where it's a nice play on words which sound similar, and these two comedians just do this to perfection, and is considered to be one of their better moments.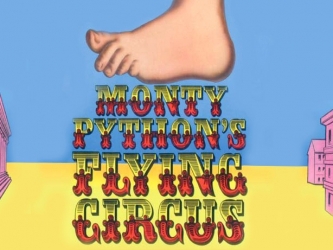 Monty Python: Spam Song
- This might be a old clip but even now, it is still VERY funny and the Monty Python sketches have influenced a lot of comedy since first appearing on TV in 1969.
Yes Minister, Yes Prime Minister:
You Lied
,
Indiscreet, Who reads the papers
I was a late developer as regards this series but bought the books written verbatim on the scripts and laughed so much at it that I then watched any episode whenever it was on.
I really do recommend watching (and reading the books) as what was true about politics 25 years ago, is so apt today.
Golfer His shot is Lethal
Laurel & Hardy: Trail of the Lonesome Pine: Without doubt, one of the greatest double acts ever to have graced the silver screen and this clip remains forever in my mind as funny, but in a diffrent way to their usual gags.
And apprarently, Ollie did have a wonderful singing voice too.
Summary
Compiling this list was much more difficult then I first imagined. The problem encountered was that I'd limited myself to clips of funniest moments, as opposed to listing favourite comedy programmes. So naturally, some of my original entries couldn't have been included as I was unable to locate them on You Tube, however, I have listed a few out, with explanations, below.
Emlyn Hughes on "A Question of Sport": The Numberboard/Princess Anne
– This sports quiz show had a round called the Numbers Board. 12 pictures of well know sports stars partially hidden or obscured by poise, or something else, and the object was to guess who they were.
Emlyn, as is normal, chooses number 6. A picture of a horse jockey covered in mud was shown, to which he guesses ........ And it turns out to be wrong, actually it was Princess Anne. AND to compound the mistake, the BBC had (unknown to Emlyn and the other team captain, Bill Beaumont) organised for Princess Anne to be a guest on the show the following week, on Emlyn's team. Watching his reaction to all of this was just special, and extremely hilarious.
Cricket Commentary on the BBC
: I really, REALLY wanted to show you this one, as the commentary was accidental, but funny. Normally, the commentators quickly summarise who the bowler is, and who the batsmen is facing him. For example – The bowler's Botham, the batsman's Chappell. Easy isn't it.
Well, until the West Indies played England that is. Michael Holding was the bowler for the West Indies, and who was facing him? .......none other than the English batsman, Peter Willey. Now work it out for yourselves.
Thought of the Day
If today is the first day of the rest of your life......what the hell was yesterday??