Yep, it's getting ever closer folks. The day when the Olympic flame is ignited and the trek from Athens to London begins.
Make a note of it in your diaries. Thursday 10th May is when it gets lit and it arrives in England on 18 May. So, this means that summer is finally here. Lazy days and gentle breezes waft over the hills and countryside as butterflies flutter here, there and everywhere.....hold on, scratch that.
We ARE talking England here.....so in reality, it'll be hissing down cats and dogs, with the odd rain shower inbetween. Go forth and get your brollies out and whilst you're at it, get the wellington boots and dirty mackintoshes as well. A thermos flask may be useful too.....
In the Beginning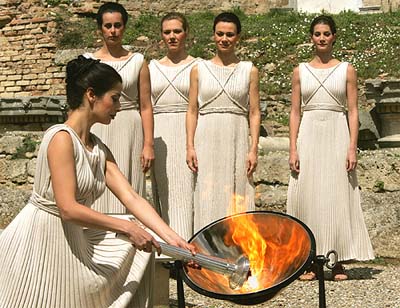 Well, the lighting ceremony actually takes place tomorrow, and t

he Flame will be lit "with every solemnity, according to the traditional way," the HOC (Hellenic Olympic Committee) said in a statement………So that will no doubt mean women in white robes wailing and parading around like there's no tomorrow with pan pipes playing in the background……deep joy.
"The High Priestess Ino Menegaki will light the Olympic flame directly from the sunrays and then, after the ritual prepared by choreographer Artemis Ignatiou, the sacred light will be handed over to the first torchbearer, Greek world champion swimmer Spyros Gianniotis," the HOC went on to say.
Ino Menegaki???? Sounds a bit greek to me ol boy.
BUT then the Flame, poor little bugger, begins an eight-day torch relay covering 2,900km around Greece which will take in five archaeological sites (dear lord) and ending on May 17 with the arrival of the flame at the old Athens Olympic Stadium where the first modern Games were held in 1896. Ok – praise be that the flame isn't a sentient life form otherwise it's going to be bored to death by this stage.
Exchanging the Flame properly
And then the evening of the 17th sees yet another ceremony at the stadium where the flame will be handed over to the British delegation (including Princess Anne, and Seb Coe) to continue its journey to London.
Greek Delegate: "Here you go, here is our wonderful flame"
UK Delgate: "Ouch, that's hot. You just burned me there dear boy"
Greek Delegate: "Well, it is a flame"
UK Delgate: His hand now on fire "Ok, thanks a lot old bean. Off we go chaps. Tally Ho!! Pip pip" and enters plane.
A five second handover dragged out to…..ooohhh, over an hour I'm guessing.
And then the plane will fly to RNAS Culdrose, in Cornwall (in good ol Blighty), arriving sometime between 19:00 to 20:00 on the 18th May, where the flame will begin it's route the following day, at Land's End, and proceeding around and around and around (repeat 8 times) all over Britain, with the flame probably getting snuffed out by the rain sometime on the 19th.
Just thought I'd shed a bit of light on the whole affair for ya.
Thought for the Day
It may be that your sole purpose in life is.......simply to serve as a warning to others.